Tomey


FT-1000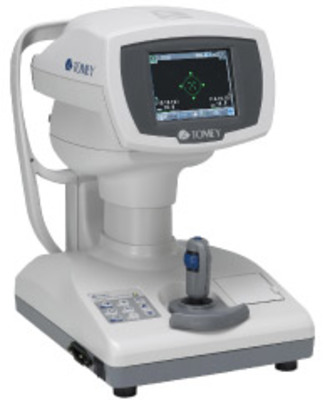 Description
FT stands for Friendly Tonometer. Friendly because of the very silent and soft air pulse. This makes the FT-1000 very convenient for the patient.
Touch screen alignment system
The 5.7 inch coloured touch screen is used as operating monitor as well as for displaying all measured values. You can even move the head in all directions by simply touching the screen. All commands can be done via touch screen.
Cornea thickness related IOP
You can easily adjust the measured IOP data according to the central corneal thickness. The calculation formula used by the FT-1000 is individually adjustable to your own preference.
Auto alignment + auto shot
The handling of the FT-1000 is very easy – it does almost everything by itself. Alignment and measurement are done automatically. You just roughly align the system towards the patient's eye and the rest is taken care of by the instrument. With a tip on the screen the system automatically moves to the left or right eye.
Soft and silent air pulse
For the comfort of your patient the FT-1000 is designed to use a very soft air pulse. Even the noise generated by the system is reduced to the minimum. This relaxes your patient and ensures highly accurate results.
High speed measurement
If you choose the multi shot option the system produces up to three air pulses in an extremely short sequence (0.1 seconds each).